Source: Teleprompt.me | Voice-powered Teleprompter
via: "Teleprompt.me" Has Script Move As You Say The Words, Not At A Pre-Set Speed | Larry Ferlazzo's Websites of the Day…
Teleprompt.me is an online teleprompter with a voice recognition feature that scrolls as you speak instead of at a pre-set rate. I tried it out, and it works really well. After writing or pasting in your script, you start talking. The site does require Google Chrome, and when you first visit the site, it will ask for permission to use the microphone. If you accidentally click Deny, click on the lock beside the URL and allow the microphone there.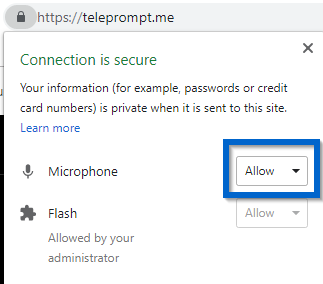 Teleprompt.me is pretty forgiving about ad-libs, and usually starts right back in after the ad lib. You can also click on a word to start reciting from that point.
All in all, Teleprompt.me would work very well for those times that you need a teleprompter, and all that you need is a desktop or laptop running Google Chrome.
---
Share what you know! Submissions are open for Edcerpts, the PDF Magazine for educators!
Be sure to subscribe to my YouTube channel and join your fellow educators on the Eduk8me email list!