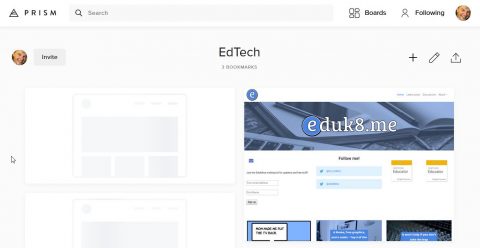 Source: Prism – Visual Bookmarks
I'm always looking for ways to share collections of bookmarks, and Prism is a good looking way to do that. The site reminds me a lot of Pinterest. You can share boards, and invite collaborators to a board. The site saves an autoupdating thumbnail of the website, which is a nice touch.
Prism would be good for teachers to share a collection of bookmarks with students or students could work in groups on a board. Sign up is done through Google, Facebook, or good old email.

Be sure to subscribe to my YouTube channel and join your fellow educators on the Eduk8me email list!