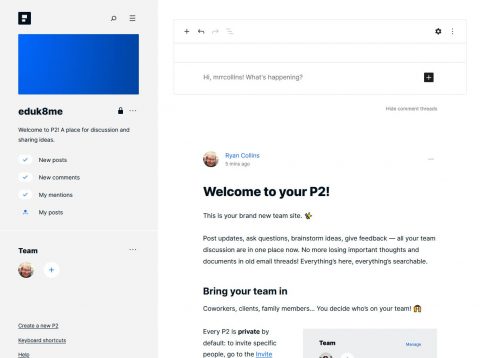 Source: P2 — The New Working
Several years ago I played with the original P2, a WordPress theme that worked kind of like Twitter. There was a box at the top of the page where you could post your content, and others could comment on it or scroll through the posts in reverse chronological order.
WordPress has revamped P2, and is now offering it for free on WordPress.com. P2 is directed toward groups and companies that want a central location for conversations. Think Slack, but longer posts. You can @mention others in your P2, and comment on each of the posts.
You can also create pages, which could be used to house static content.
P2 can only be hosted on WordPress.com and requires a WordPress account. I could see P2 being used for temporary groups or for when you want to create a website for a group or department. The tools are just enough to get going, and hopefully they'll continue to add on to P2's capabilities. For example, I couldn't find a way to add tags or categories to posts.

Be sure to subscribe to my YouTube channel and join your fellow educators on the Eduk8me email list!