This is article 6 from 13 things to do before the first day of school.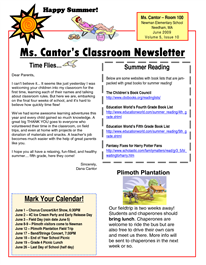 Sending home a newsletter on the first day of school is a way to inform parents about how your classroom will work for the upcoming year, and, more importantly, allow you to set up various communication channels for you, your students, and your parents, to use.
Information to include
What could be included in the newsletter? Here are some ideas:
How parents can get in touch with you: email, Google Voice, select group communication method, Twitter account, and school phone number.
Your classroom website.
Classroom rules and expectations.
Classroom social media accounts and guidelines (does your district have a media release policy? this may need to be discussed with your administrator).
Some personal information about you (your favorite things, what you like to do, educational background, etc.).
Creating the newsletter
These are three of my favorite ways to create a newsletter. Don't feel like you have to use any of these, but your newsletter could be a reason to try something new.
Google Docs – Although designed for word processing, Google Docs can be used for page layout through clever usage of tables and Google Draw objects.
LucidPress – A web based page layout tool that is free for education.
Pages for OS X – If you have an Apple product (Macintosh, iPad, or iPhone), Pages is a great tool not only for word processing but for page layout.

Be sure to subscribe to my YouTube channel and join your fellow educators on the Eduk8me email list!