Internet Travels
Of bits and bytes is my weekly round up of interesting links and ideas I discovered on the internet. It is published on Mondays for the previous week
---
Learn21 is a proud sponsor of Eduk8me and the Of Bits and Bytes newsletter. Read more about their mission at Learn21.
---
Apps
If you don't know, my degree is in music education, so when I come across music apps I have to share them! While Magical Music Theory Tools is geared toward learning music theory, there are several mini-apps like the Super Simple Sequencer: Online Step Sequencer & Music Scratchpad which can also be used outside of the music classroom. Several of the mini-apps can also take advantage of a MIDI keyboard if you happen to have one you can plug into your computer.
The Android Google Drive app is getting a two page side-by-side view for PDFs. Nothing has been said about this feature coming to the web version, but I'm hoping it does!
Pedagogy
How do you define "evidence-based" teaching? The Pennsylvania has define four tiers and Peter Greene has dug into it to see what it means. In the realm of education, "evidence-based" practices exist within a four-tiered hierarchy, yet this term is often misconstrued as synonymous with unequivocal effectiveness. None of these tiers account for balancing evidence, potentially overestimating their reliability.
One of the downsides of teaching is that you can only take a vacation in June or July, so I can understand parents taking their kids out of school for vacation h/t – archive link. Should students be missing school? Personally, I don't have a problem with it. The student is getting out, seeing the world, and will learn more than spending the week in school. What do you think?
And here is the surprise of the week. Individuals reach executive function maturity usually by 18. I was barely past the eating crayons stage at 18, so this really shocked me!
Technology
I promise I will stop raving about Seth Godin the day he stops being awesome, but today is not that day. Any new tech may not seem worth it to learn, but once others in your industry are benefiting from it, maybe its time to learn. Remember, it took 30 years for the pencil to become commonplace in the classroom.
AI doesn't scare me much yet. When you open something like ChatGPT, it just sits there waiting for input. This is not something bent on taking over the world does. However, when people start carrying on conversations for hours with ChatGPT that's when I get worried.
Tips
This weeks tips are all about making Google Calendar look good!
Emoji in the event titles
The title of an event can contain more than just text. You can put emojis in it to help you know at a glance exactly what the event entails. Lunch meeting? Try 🥪. Conference? Try 🗣. Classes? What about 🧑‍🏫?
Color the events
There are two ways you can color code the event. The first way is to select a color when you create and event: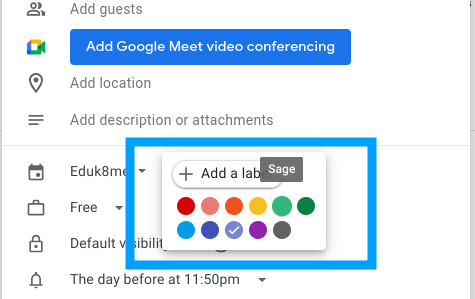 All of you meetings could be red, while conferences could be orange. The second way to color events also has a way of categorizing the event. You can create additional calendars. Once calendar could be your class schedule. Click on the + under your calendars to Create a new calendar. After the calendar is created, you can click on the three dot menu to the right of the calendar name to select the color: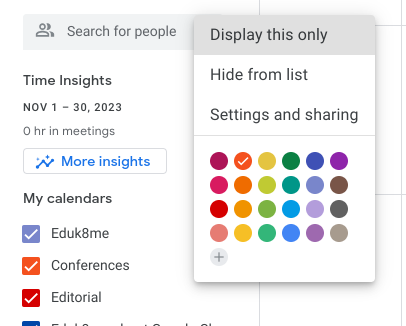 Creating additional calendars also allows you to show or hide events for those categories, it all depends on how much you want to configure with Google Calendar.
Pop Culture
I've written a lot about whether X (Twitter) is useful to me, Alan Levine digs deep into the archives on the life cycle of X and social media in general.
So this leads into the question, is social media dying? People are starting to leave X and social media behind. I don't spend nearly as much time as I used to, replacing it with RSS and email lists. I guess the email lists could be viewed as a form of social media, albeit more focused and less noise. The downfall of social media reminds me about Dunbar's number, the theory that we can only maintain about 150 "meaningful contacts".
Potpourri
How many animals have ever existed on Earth? The number may surprise you, along with the number of living cells.
Extra Credit
Here are extra links that I found interesting that may or may not be education related or interesting to you and I didn't want to lose them.
---
By design, the vast majority of Of Bits and Bytes readers never pay anything for the links, commentary, and tips it provides. But you made it all the way to the end of this week's edition — maybe not for the first time. Want to support more journalism like what you read today? If so, click here.

Be sure to subscribe to my YouTube channel and join your fellow educators on the Eduk8me email list!
---
Be sure to subscribe to my YouTube channel and join your fellow educators on the Eduk8me email list!