Internet Travels
Edcerpts are my weekly round up of interesting links and ideas I discovered on the internet. It is published on Mondays for the previous week
Apps
Does anyone else remember the Little Professor Calculator?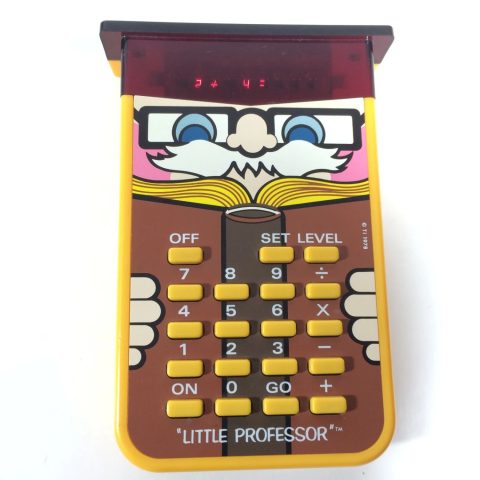 According to my teachers it was destined to ruin math for us, but I digress. If you feel nostalgic or need a virtualized graphing calculator, the check out The Calculator Drawer on the Internet Archive. Unfortunately, neither the Little Professor nor the TI-84 are present.
I have never seen a product create so much discussion with educators as I've seen with ChatGPT. Yes, students can use it to cheat, but the creators of ChatGPT have you covered along with GPTZero. ChatGPT can also be valuable for teachers, especially with the ability to create different reading levels for a text sample.
Richard Byrne posted a link to 75 Google Documents YouTube Tutorials.
Pedagogy
The myth of the "digital native" continues to get busted, Gen Z is now saying that schools aren't preparing them for the digital world.
Peter Greene always has some fantastic deep dives into the news that affects education, and his article on The McKinsy Institute and learning loss hits it out of the park.
Technology
Are you still wondering if ChatGPT is going to change how you assess? You might want to read about all of the exams that ChatGPT has passed so far.
Microsoft and Google are starting to use the buddy system, bringing Microsoft 365 and Chromebooks closer together.
Women were integral to the Apollo Space program in the 60s and 70s, but how did girls view the program?
Tips
Email is one of the most powerful tools that we use every day, and here are a series of articles about taming that beast.
Pop Culture
Here is an announcement that shouldn't shock anyone, but the Surgeon General says 13 is 'too early' to join social media.
The cartoons that taught us how a bill becomes a law and how conjunctions work, 'Schoolhouse Rock', debuted 50 years ago. Along the same vein, here are the kids' shows with the largest vocabulary.
Pot Pourri
The history I didn't know I needed, all about the staple of schools' past, the TV cart. It's been shown how poverty affects brain development, and here's another that shows howsocioeconomic disparities in children's sleep reduce cortical thickness.
When you see a great work of art, do you want if it was the artist or the tool? The lines are blurred when you
see this recreation of classic art using nothing but Kid Pix.
And finally, all of those bad drivers you see? Some of the fault lies in the cars themselves teaching us to ignore all of the bad things in driving.
---
Share what you know! Submissions are open for Edcerpts, the PDF Magazine for educators!
Be sure to subscribe to my YouTube channel and join your fellow educators on the Eduk8me email list!