Syncing settings in Vivaldi.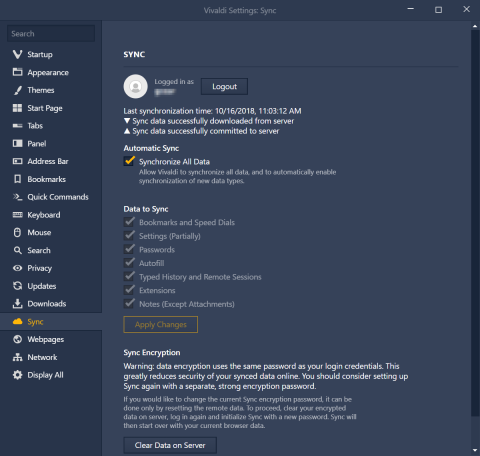 Source: The browser that puts you in control | Vivaldi
In my initial article about Vivaldi, my biggest complaint was the lack of sync. Well, with the release of 2.0 that problem has been rectified.
Along with syncing, creating a vivaldi.net account gives you access to participate in the Vivaldi forums, an email account, and the ability to create a blog. A lot of features for a free account.
Syncing settings in Vivaldi
Registering for an account
To get started, you'll need to register for an account. In the sync settings, there is a button to create an account.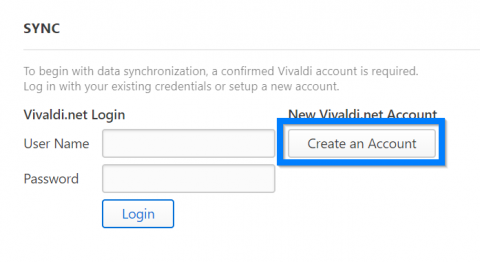 Fill out the form to create the account. Along with syncing capabilities, the account also gives you a vivaldi.net email address, access to the Vivaldi discussion forums, and the ability to create a blog under the vivaldi.net top level domain.
Syncing
Once the account is created, syncing is as simple as heading to the sync settings and signing in. You will need to pick an encryption password. This password is different than your Vivaldi password and is used to encrypt your data before sending. This ensures that Vivaldi can not access any information synced.
Some information isn't synced yet, such as all history and attachments in notes. The history that is synced is any addresses that you have typed, but doesn't include visited sites. Syncing all of history is coming though.
Conclusion:
Now that I can sync my settings, I really don't have any big complaints about Vivaldi. It is now my default browser on all of my systems. I like the speed and customizability of the browser, especially tab stacking. The other feature I like is the ability to position tabs on any side of the browser. I prefer my tabs on the left side when working on a wider screen and on the top when I'm using a narrower screen, such as a tablet in portrait mode.
Have you tried the browser out? What are your thoughts?

Be sure to subscribe to my YouTube channel and join your fellow educators on the Eduk8me email list!